Hampta Pass Trek is one of the trekking destinations located in the northern Indian state; Himachal Pradesh. It has a massive influx of tourists from all over the India and abroad, all year round. Lying in the lap of ice-clad mountains, Himachal Pradesh is well known for its adventure sports which prominently feature 'trekking.' As of now, there are over 200 trekking trails, out of which the popular ones include–
Hampta Pass trek
Kakeri lake trek
trek to Chamba and Pin Parvati
Beas Kund trek
Bhabha pass trek
Dhaulandhar (Triund Glacier)trek
Sari Pass trek, and many
Hampta pass trek is convenient enough with its moderate difficulty level and is capable of invoking an adrenaline rush at the same time through its maximum altitude of 14,100 feet. With an average temperature of 13°C-18°C during daytime and 0°C-7°C at night, you should preferably mark your presence here from the last week of June through the first week of October.
Hampta pass welcomes you with its varied terrains, green pastures, picturesque landscapes, glacial valleys and a whole new fascinating experience that you can cherish for years to come. It costs near about Rs 10,000/person for the entire experience and can be reached easily by air or by road. You will have to spare 5-6 days for a complete Hampta pass trek.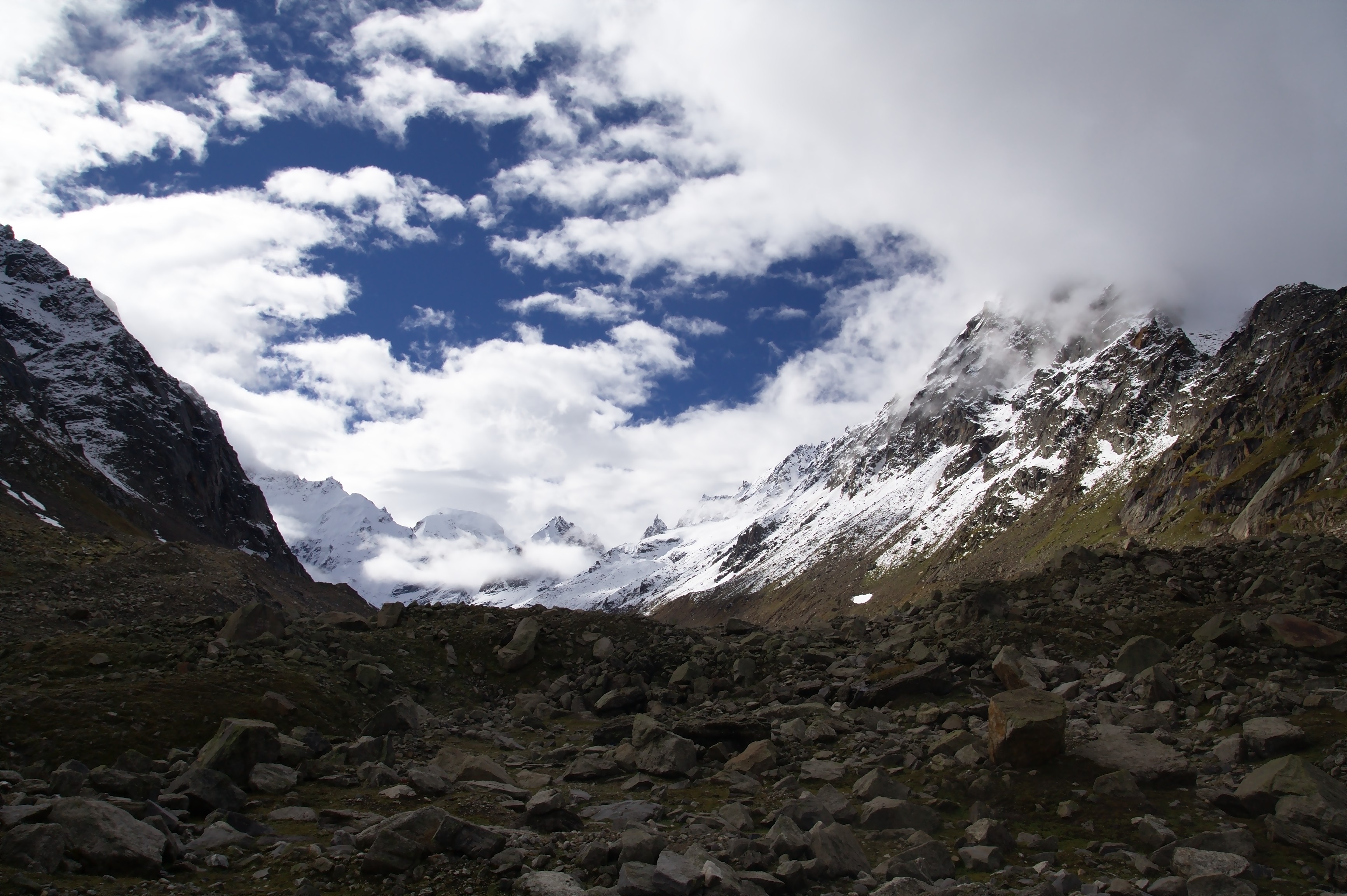 First Day of Hampta Pass Trek- Start from Manali and reach Chika via Jobra-
Manali, the nearest station, at an elevation of 6,726 feet above sea level marks the beginning of the expedition. A journey on wheels of almost one hour, involving over 40 sharp U-turns gets you to Jobra. After backpacking with all the essentials, you will have to trek on foot from Jobra, which lies at 9,800 feet of elevation, up to the Chika by ascending to a height of 10,400 feet in around 2-3 hours.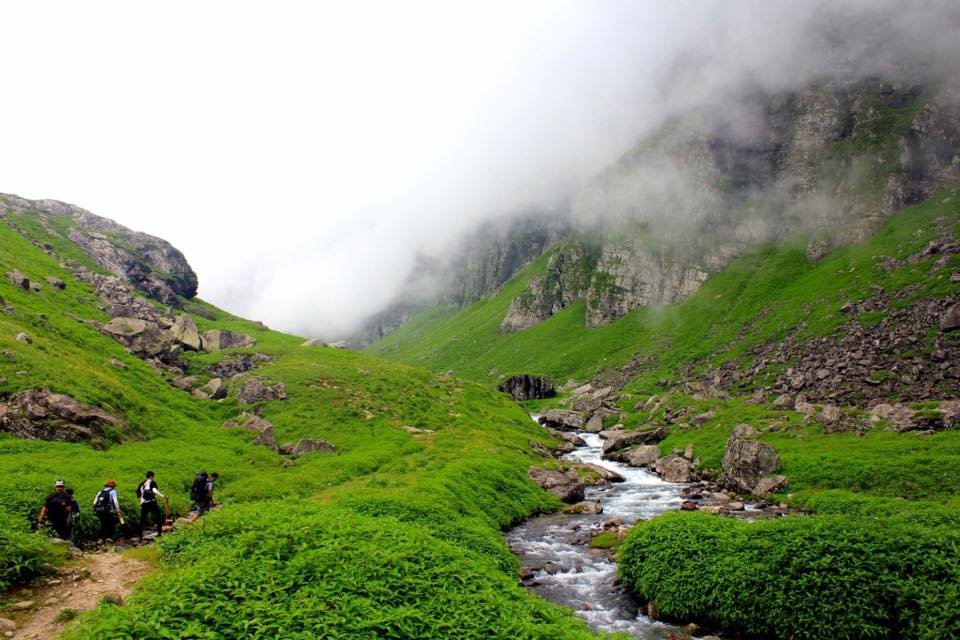 After getting off the main road, a small path leading you to the forest, featuring pine trees, maple, oak, toss, and deodar will leave you spellbound. Twenty minutes of trekking will bring you to a bend from where you can spectate lush green meadows downwards. Rani Nallah, greenery, and grazing cattle make it a scene out of a painting.
Across this vast meadow lies Chika campsite, which could be accessed by going through the pasture or by climbing the hill on the left. Deploy your tents at Chika that has Rani River flowing by it.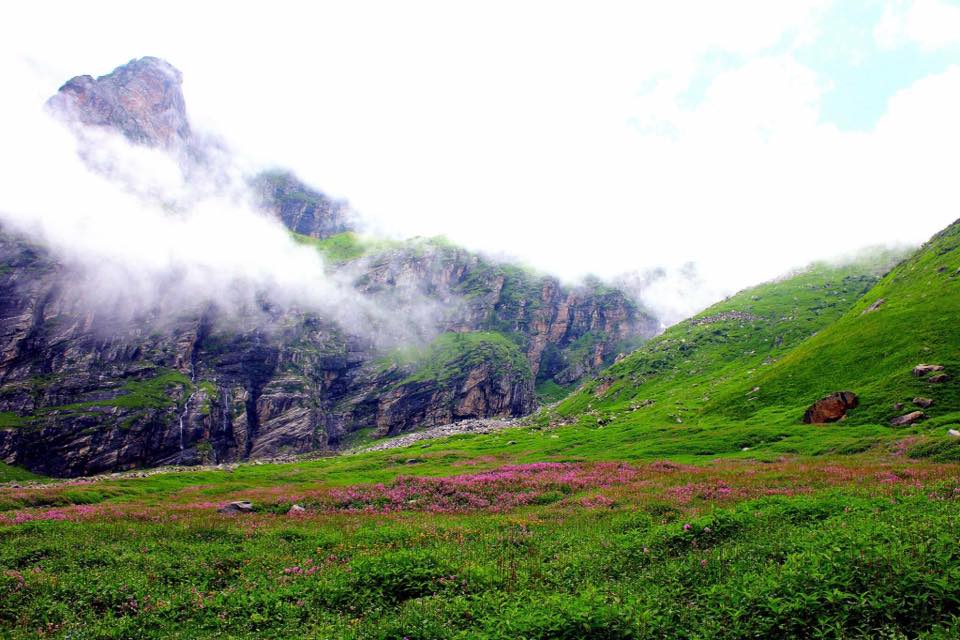 Second Day- Star again from Chika and reach Balu ka Gera by the evening-
The subsequent destination; Balu ka Gera, can be reached by following the left bank of the river (appearing on your right). You will experience a rough terrain, and a slope strewed with boulders. You will also find a remarkable array of dwarf Rhododendron trees in the lower and central region at the right bank of the river. As soon as you reach past the upper part that usually is encompassed by a cluster of silver birch trees, thou will witness the beautiful Dhauladhar chain of ice-clad mountains. At a distance in your left, you can find the pristine waterfall.
Next, you will need to cross the rivulet to your left to reach the delightful valley- Jwara. Grazing cattle and melting snow into the river from the ice-clad rocks make the view quite mesmerizing. Moving on by the riverside will take you to the end of Jwara valley, through vibrant floral scenes.
The path afterward is sloppy sporting rocks, snow, and greens and will lead you to a flat ground called Balu ka Gera, surrounded by the mountains. It is named from the fact that the formation of the place was out of dust and sand brought by the mighty river. It lies at an elevation of 11,900 feet.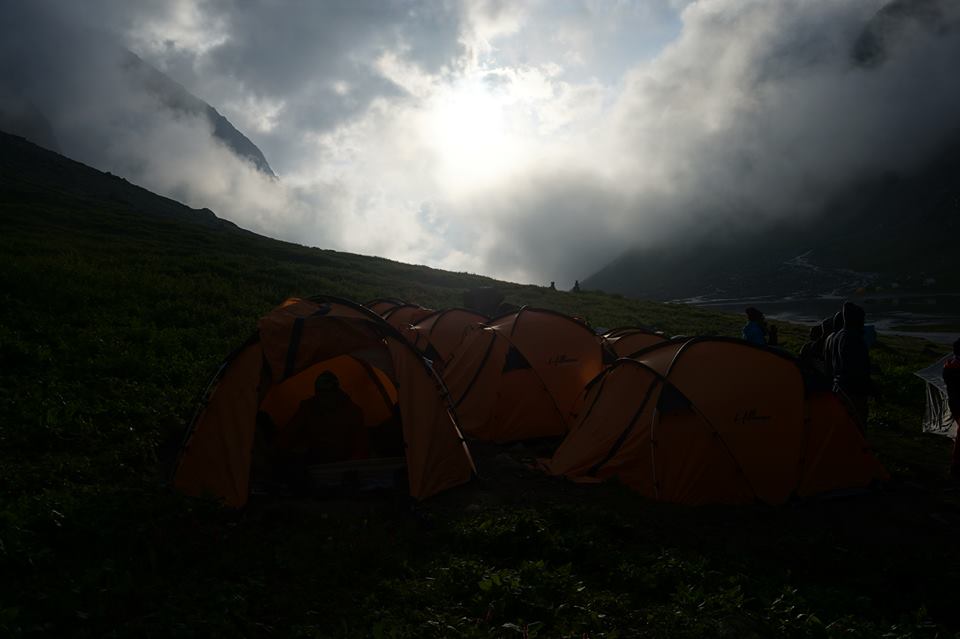 Third Day- Move from Balu-Ka-Gera and reach Sia Goru by crossing Hampta Pass –
This day's trek will comprise of ascension on a steep slope up to the Hampta pass, after that a descent to reach Sia Goru, requiring almost 9 hours overall. The trekking starts with trailing along the riverside towards the visible mountains by passing through a carpet of orange and yellow flowers. After one hour, your climb to Hampta pass will start, and you will reach the first plateau within an hour. From there you can easily watch Deo Tibet peak upfront, and the thick snow around you (if it is the summer).
After trekking through another plateau, and two consecutive ridges, you will get to the Hampta pass. What will soothe you in your tiredness is the fantastic and stunning 360º beauty. Have your lunch over there before descending to the Sia Goru.
The sharp slope and a trickier passage ahead will require you to slide down or use a harness to reach down. It will take you 90 minutes to reach down to the valley leading to Sia Goru. From here flat ground starts surrounded by ice-capped mountains. After reaching Sia Goru campsite (by the riverside), set up your tents and take a sound sleep under the stars.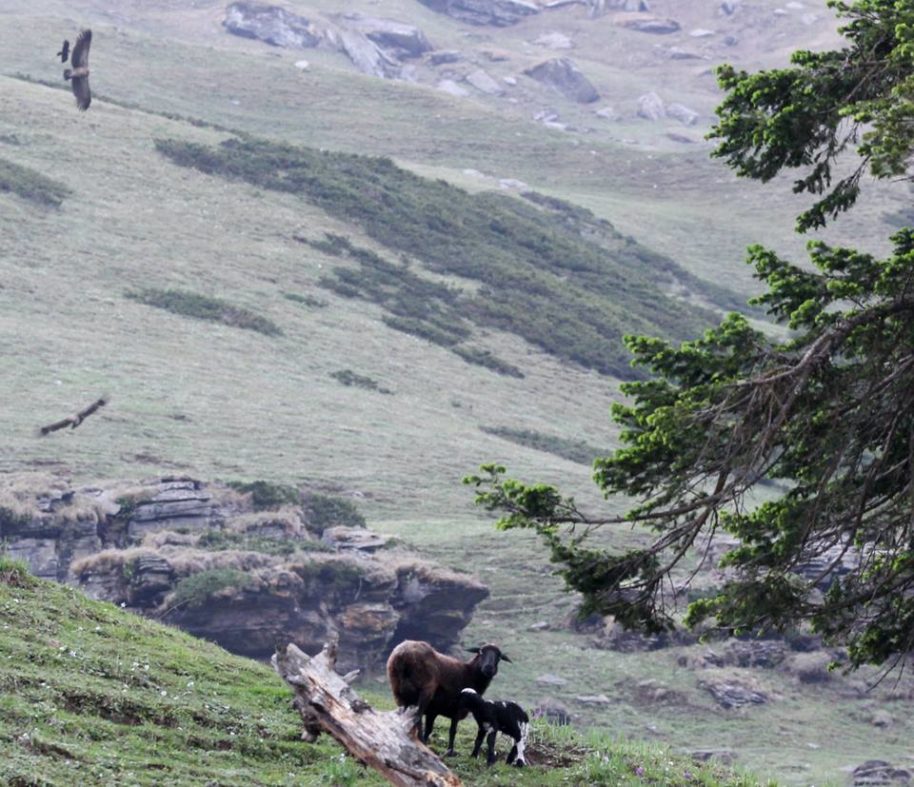 Fourth Day- Start from SiaGoru and reach Chatru-
The journey from Sia Goru (12,900 ft) to Chatru (11,000 ft) will be quite easy as it is gentle down the slope, in the valley by the riverside, surrounded by barren mountains. The route after that requires a careful footing on the slippery and risky terrains. The adrenaline rush will boost the adventure until you reach the base of mountains.
You will observe the Chandra River flowing by the road. You will have to go past the two glaciers to reach Chatru camping site. Set your camps nearby the river.
Chatru is a junction of Hampta, Spiti and Rohtang pass and features a jaw-dropping view. Alternatively, Chandratal camping site, at a distance of 2 hours, offers even better beauty and landscape views.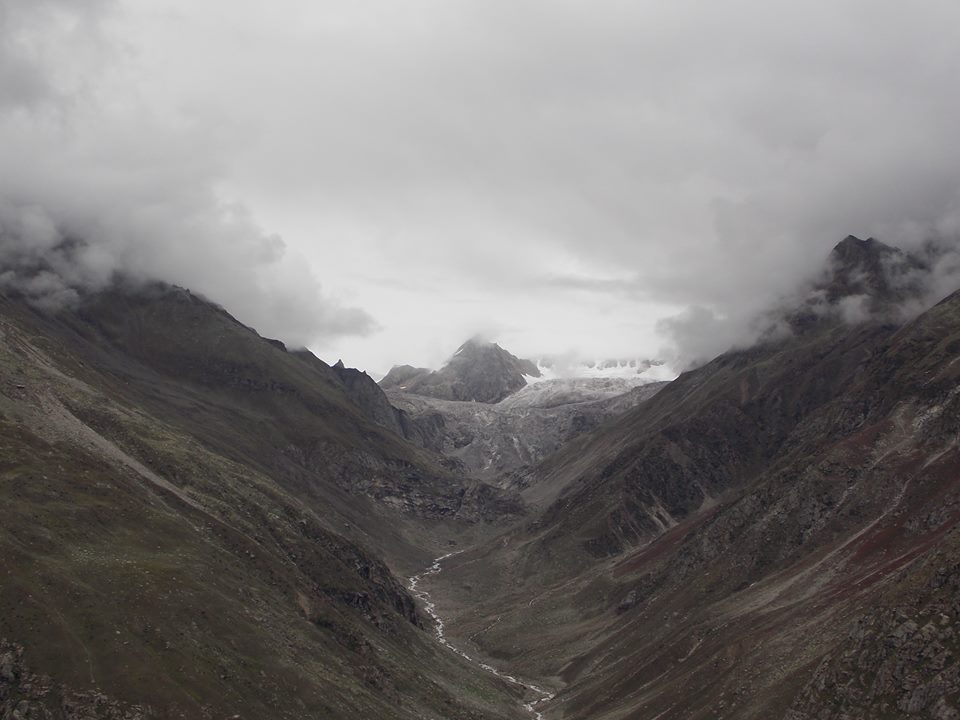 Fifth Day- Move on from Chatru/ Chandratal and reach back to Manali-
From Chatru camping site you can trek on up to the Chandratal Lake aka 'moon lake,' situated at a distance of 70kms (if the weather allows it). From Chandratal camping site, Moon Lake is only a few hours ahead. You can arrange a vehicle to visit this lake and can go finally back to Manali.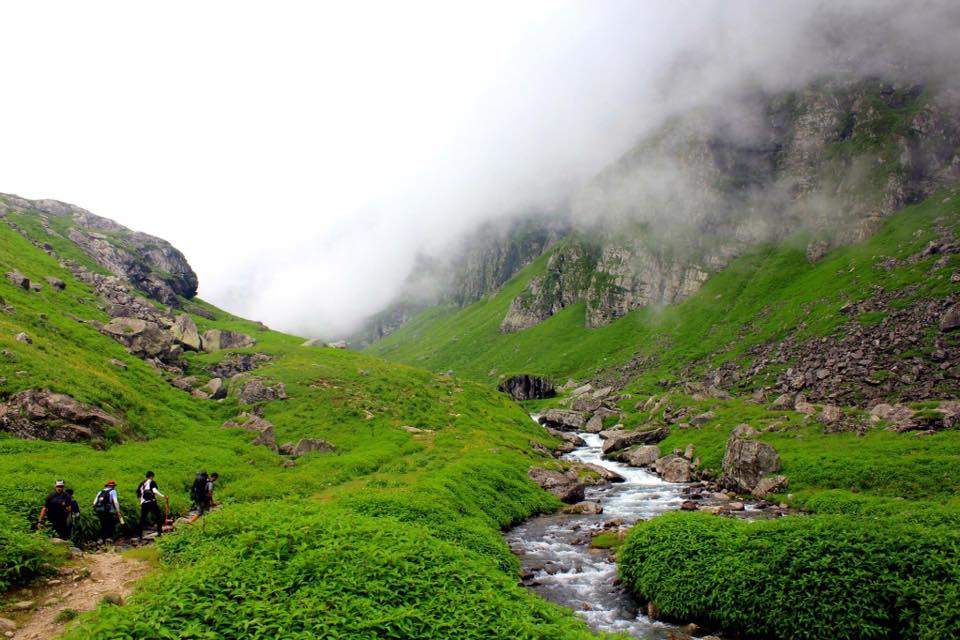 Summary of Hampta Pass trek:
Place | Pir Panjal range
Starting point | Jobra
Trek length | Approx 26 kilometres 
Time of trek | 5 days.
Difficulty level | Difficult
Mode | foot with wooden stick support.
Essentials | Power bank, poncho, move/voilini, toiletries.  
Terrain | trekking through rock surface, crossing river streams
To see | Water cascades, clouds, clear blue skies and breathtaking forest in sunlight and moon lake
Definitely Do's | Night stargazing, visiting Chandratal lake
Don'ts  | Don't rush to cover the trek, Use high-quality trekking shoes.
Note | Please don't litter