Kheerganga Trek is most sought trek near Kasol. Everyone needs a break from day to day life to refresh oneself. While most of the people plan for a luxury holiday, a few choose to explore mountains. Trekking word itself makes you a sensation in nerves and thought of adventure is filled in mind. Walking through the jungle and reaching in some village which is remotely connected with the city and away from hustle bustle of traffic.
KheerGanga is 14 km from Barshaini – Kullu district depending upon the trek you choose. An easy one is around 14km and have a minimum to no forest and difficult one is passing through the forest with steep climbs.
Note: Before you plan your trip keep in mind that you should hydrate as much as you can for 2 to 3 days. Walking on foot drenches more sweat and serious fatigue or heat stroke is common.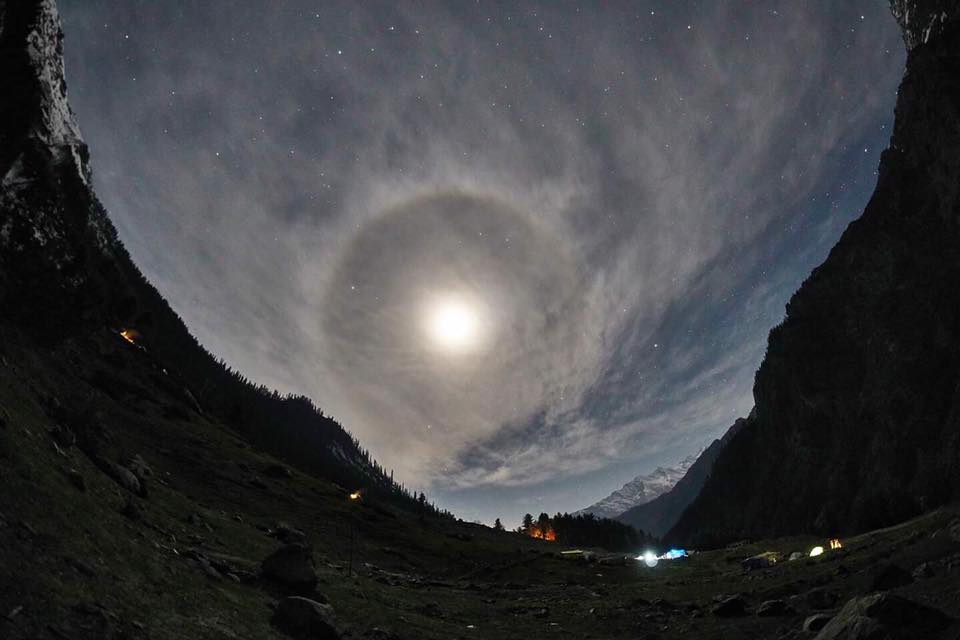 Kheerganga Height and why Kheerganga is famous: Kheerganga is mostly visited for its hot spring lies at the altitude of 2960m and said to have healing properties. It is a sacred place for Hindu and Sikh pilgrims. while trekking from the right of Parvati river in Parvati valley you will come across many waterfalls cascade. And if you are trekking from the right side you will come across Rudra Nag sacred waterfall.
Kheerganga Weather :
In winter you will see heavy snowfall, from November to March. While in summer the glacier melts and you will witness beautiful flowers. For those who are thinking to trek in the raining season, you are advised to take extra care while trekking.
Itinerary for Kheerganga Trek :
1. Take a bus or own vehicle and reach Kasol. Since the journey is tiring take proper rest in Kasol, sleep for at least 6-8hrs.
2. From Kullu travel to Barshaini:  For Kheerganga from Kasol take a cab from Kasol to Barshaini which will cost you around 150rs per head. If you have your own car, park it near the dam. Don't park your car anywhere, you will find security guards there; ask him where you should park your car. As you will be leaving your car there for more than 24hrs it becomes necessary that you have parked it at the right place with gear lock.
3. From Barshaini you start walking to Kheerganga :

The trek starts from Barshaini and there is two possible route you can opt from. One has a huge waterfall while other crosses Parvati river. Both the route meets 3km before the peak. The trek is easy for most of the part. As you the peak approaches the trek becomes steeper and requires extra effort. The total length of the trek is 14 km approx.
Enjoy Hot water spring once you reach Kheerganga and Stargazing is a must. Kheerganga Camps are now closed so you probably inquire before in hand and rent a tent of your own if you wish to do Kheerganga Camping.
RULES OF MOUNTAIN TREKKING AND PRECAUTION
Once you have decided to trek in mountains a serious homework is done. I already mentioned above about hydrating but that is not enough. A bag pack with essential equipment is very much necessary.
From month of March to end of October you can easily find a stay at Kheerganga but if you are going any other month you need to carry your own tent and own cooking equipment with you to spend a day to two there.
List of essential items to be included in bag pack and keep in mind you have to carry bag your own so do not pack extra stuff to make it heavy causing tough condition while trekking.
Bag packing for Kheerganga Trek
1. Sunscreen
2. Hat
3. Sunglasses
4. Light towel (Gamcha)
5. 2-3 pairs of socks (thick)
6. 2 trouser
7. 2 t-shirt
8. Underwears 2-3 pairs
9. Thermals + Jacket (check the temperature and pack the kind of jacket accordingly)
10. Poncho
11. Trekking shoe
12. Insulate Water bottles (or it will freeze in winter)
13. Lip balm
14. Earplug
15. Gloves
16. Extra power bank for camera and phone
17. Insurance paper
18. Toiletries
19. Medical kit (paracetamol included)
20. High energy bars + snacks
21. Plastic bags (to keep wet clothes or shave clothes in case of rain)
Once you reach Kheerganga enjoy your stay and you will soon figure out why would GOD SHIVA meditated there for more than 2000 years.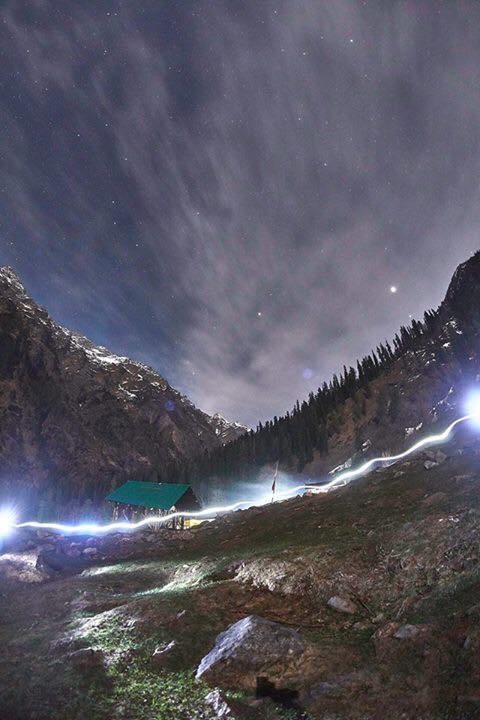 The hot water spring will make you fresh again. Food is nice. You can find a stay at 200-300rs per head. If you want to carry a tent of your own, go ahead there is no restriction, you can fix it anywhere you want.
Now the entertaining part is photography, you can spot Milky Way galaxy at night and click photo or a full moon night is magical.
If you are looking for an easier trek of less than 10km then TRIUND TREK would be best for you.
Kheerganga Weather: Kheerganga temperature drops at night and even in summer you will feel a little cold at night.