TRIUND TREK – A trek of 22 hairpin turns
Triund trek: It is a very famous trek in India as well as for tourist all over the world. On difficulty level, Triund trek is an easy 6-kilometer trek. Triund height reaches up to 2850m. You can simply picture it as a crown jewel of Dharamshala. Triund is literally in the lap of Dhauladhar ranges. You can enjoy the great Dhauladhar ranges on one side and the Kangra valley on the other.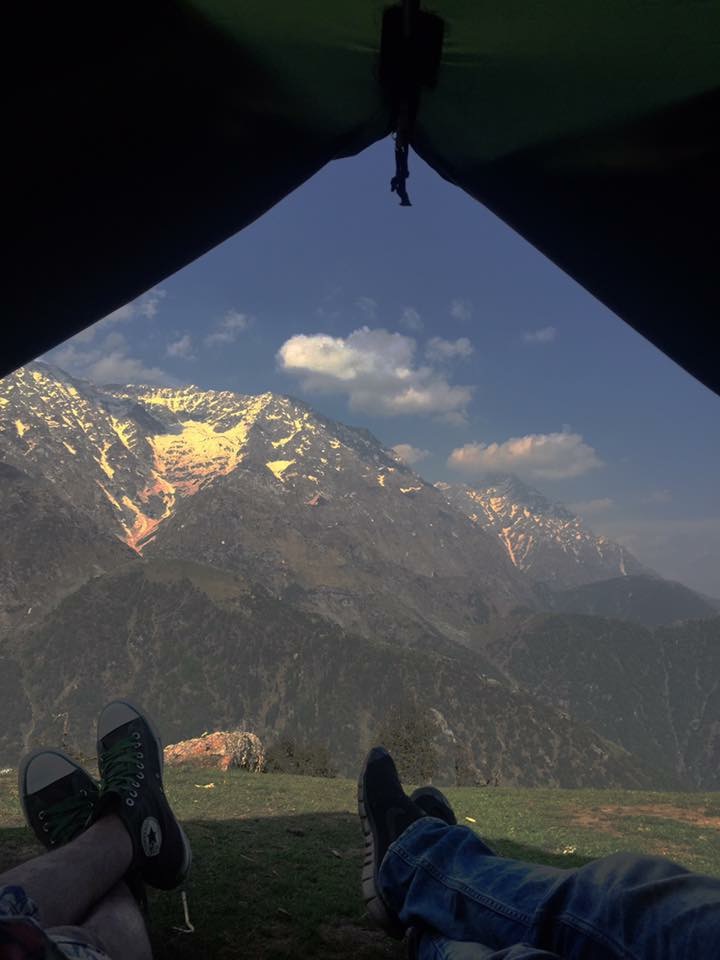 Triund Trek Details:
The trail is easily scale-able for all age group. Triund Trek length is 6 km, the trek is having a steady inclination for 5 Kms and the last 1km is steep.  The trek cuts through a beautiful forest of oak, rhododendron, and deodar. There is may Tea Stalls along the way but the famous one is Magic View tea stall which claims to be the oldest of all started in 1984. View from Magic View tea stall is very beautiful. You can also take the trail to Bhagsu waterfall and enjoy bathing if you trekking in summer. Triund Trek is also known as 22 tiring Curves which you cover before winning over Triund and enjoy the view which makes you feel puny.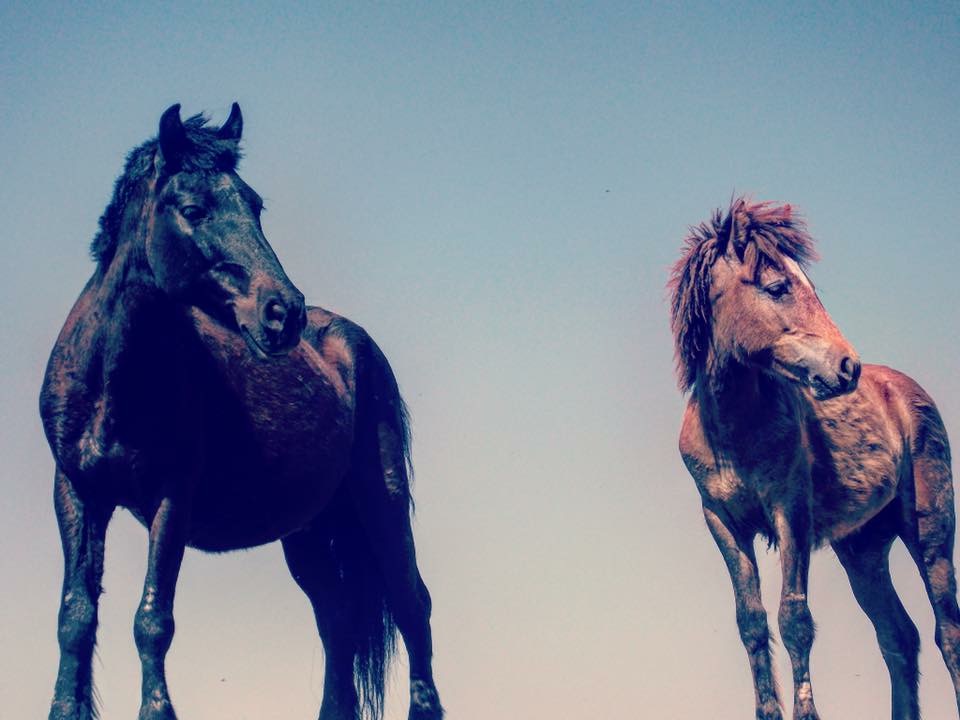 Triund Trek Itinerary:
You can take any public transport to reach Mcleod Ganj.
Triund from Mcleodganj: The starting point of the Triund trek is Galu where you can visit Galu Devi Temple. Either you can start trekking from Mcleod Ganj Main Square or you can take a cab from Main Square to Galu. The trek is open and accessible throughout the year except for January and February when there is heavy snowfall and advised to prepare properly before you decide to scale it in months when it's snowing heavily. It is one of the most visited by travel seekers who are planning for weekend getaways from Delhi. It is a day hike, you can either choose to do Triund camping, or you can return back to Mcleodganj on the same day. The panoramic view of the Dhauldhar range is heart whelming.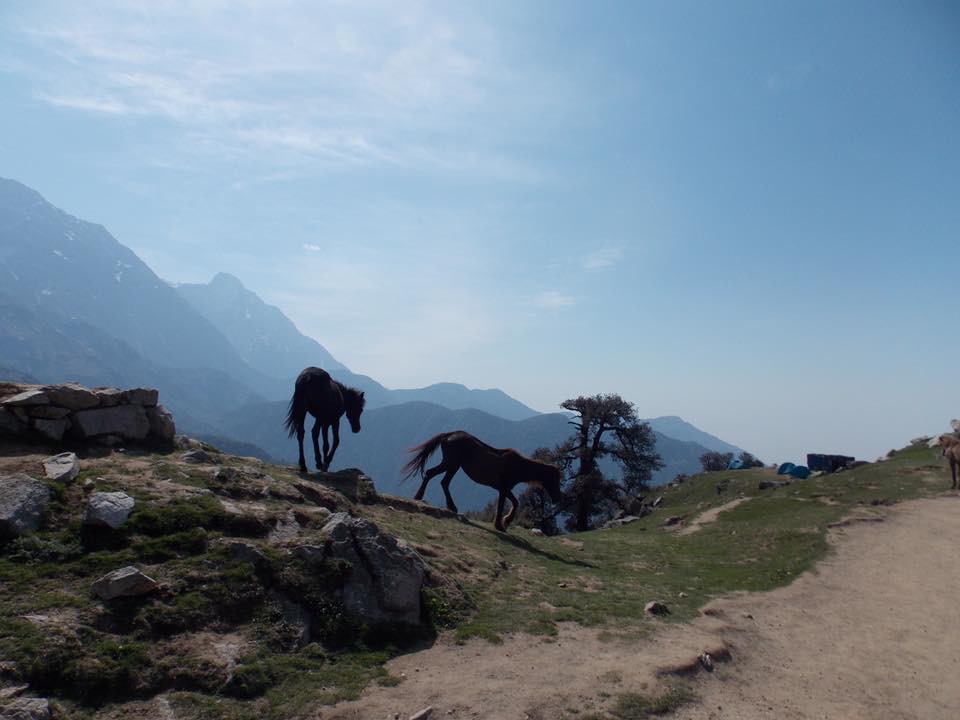 Personal Experience Of Triund Trekking :
We planned to visit Triund top with friends of five members out which three were girls. It took us around 12hrs to reach McLeodganj by car from Delhi covering a distance of 480kms. We started our journey from Delhi in the evening and reached Mcloed Ganj by early morning and booked a hotel so that we all 5 get a good sleep before starting trek next day. In Mcloed Ganj we visited Mall road and Dalai Lama temple.
Next day we all were excited and with fresh mood started the trek in the morning at 10 am and reached Triund by 4 pm. While trekking we made sure that no one is rushing to cover the trek at a fast pace and lose breath. Also, we decided to stargaze at Triund so we had to be awake at night and getting exhausted while hiking would make it impossible. Good point was that we already booked the camp at the TANK (close to the starting point of the trek).
The difficulty level of trind trek:
Since all other 4 were new to trekking they were getting exhausted very soon and kept taking rest which was good that they didn't try to continue and ended up over exhausting themselves. we kept hiking up with slow pace with stopping by at every tea stall and viewpoints to click photos. First 5 km of the trek was easy with a few rocky climbs. The last 1 km where we all 5 mingled up with fellow trekker to talk and joked around to get freshen up and restore our energy to get going.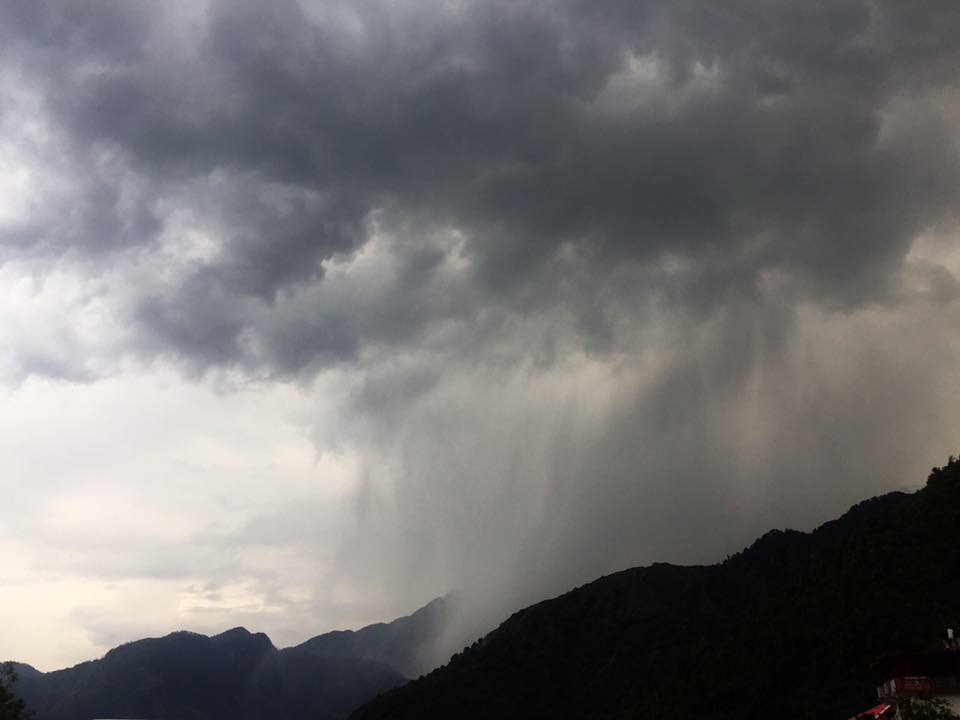 As soon we reached the top it was all worth trekking. All 5 of us had a smile on our face as the Dhauladhar Ranges looked so beautiful with ice caps. Finally, we had this sense of great achievement of conquering those 22 curves of the trek. We enjoyed the night with Songs on guitar and Horror stories.
Weather in Triund:
The night was very cold and cold breeze would penetrate through tiny holes of the zipper in the tent house and would shiver us badly. Next morning we trekked down and it rained heavily followed by a hail storm. It rained a little at the end of our trek but we were lucky enough that there was a tea stall with proper shed and the stall was serving an amazing cup of tea. Rain stopped in a while but the cold was showing no mercy on the trekkers.  We reached the Pani Tanki (starting point of Triund Hill trek) and were ready to drive back to Delhi after having our lunch on Dhaba in Mcloedganj, Dharmshala.
Preparation :
If you are planning trekking to Triund, please keep below points in mind :
Check the weather and better keep some warm clothes with you. Even when it is showing the temperature would be high. Weather at Triund changes rapidly at any point of the day.
If it's your first trek and you don't want to invest in Trekking shoe kindly avoid taking any plastic sole shoe (basketball shoe especially). Any normal leather shoe would do good.
Include Poncho in your bag pack as it rains without any warning. At one time we noticed the sky was all clear and blue and the next moment it rained heavily.
Hydrate enough for a day and 2 before the trek will help a lot. In summer the sun is brutal and would juice away water from the body.
Keep pain relief medicines and sprays.
If you have any kind of breathing problem avoid trekking. Or you may consult your doctor before you decide to do the trek.
Triund Trek Itinerary :
Main Square – Mcloed Ganj to water tank -Dharmkot (park your car)
Starting trek from Water Tank and reach Magic Viewpoint(Mid-point of the trek)
Magic Viewpoint to Triund campsite. If you want to extend your trek. You can trek from Mcleodganj to Triund and from Triund to Indrahar Pass.
Triund Weather :
The trek is heavenly in the colder season. And the security guard advises you not to start the trek if there is heavy snowfall at any time in the month of November to march. In spring the trek has different kinds of flower welcoming you. While in summer the trek is really very hot. Triund temperature falls at night so take a jacket with you if you plan to do stargazing. Sleep early at night to take proper sleep as the tent becomes hot beyond limit with first sunshine of morning. Do the trek between Feb to March or July to Nov.
Things to Pack :