Deoriatal to Chandrashila Trek: Experience the beauty in the lap of Himalayas
Deoria Tal-Chandrashila Trek with Chopta is a famous trek that most people prefer in the summer months. You can, of course, take the winter trek but a summer trek is quite rejuvenating as it gives you a break from the bustling cities and revives your body, soul, and mind. It is a short trek and counted among the most spellbinding treks in the Garhwal district. The first part is where you visit the Deoria Tal which is quite charming at 2438m. Then you go from the Chaukhamba Peak to see the beautiful views of the Deoria Tal Lake and its crystal clear waters.
The trail that leads to Chopta has a blanket of lush green meadows which are tucked safely among the Himalayas. On the trek, you will see the beautiful Tungnath temple which is located at 3680m. It is said to be the highest Shiva shrine in the entire world. Other attractions are the exotic flora and fauna and some majestic peaks like Kedar, Bandarpoonch, Chaukhamba, etc.
If you are in for an experience, then you should try the Himalayan Eco Lodges. You can also enjoy Camps which are at the Kund at the foot of Deoria Tal and Chandrashila trek.
The experience is marvellous and something that you will cherish for the rest of your life.
There is no best time to take this trek as it is open throughout the year.
Your five-day long Itinerary from Deoriatal to Chandrashilla Trek
On the first day, your destination will be 6,601 ft (Sari) which is a 7-8 hours drive from the scenic town of Haridwar. Transport is also available from Haridwar Railway station, so if you want to take a train, you can enjoy the train trip. Sari is the base camp of the Deoriatal – Chandrashila trek, and the journey is indeed splendid. You will cross through Devaprayag; where the rivers Alakananda and Bhagirathi meet to make the holy river Ganga. Make sure you take the window seat to enjoy the views. Sari is a tiny village with only 100 or so houses. Sari has beautiful paddy fields, and the landscape is heavenly. You can walk around if you reach late to enjoy the sunset.
Day 2 :
On day two, Your destination will be Deoriatal from Sari (7,841 ft-6,601 ft). It will only take an hour for covering 3 km. The trek is quite comfortable with a gradual climb on a beautiful rocky trail. Trek grows steep as you keep walking. You will have to carry water with you as there is no source of fresh drinking water available on trek.
Your adventure begins in Sari, or you can start your trek from Uktimath. Within 15 minutes of trekking, you will see beautiful village houses and a magnificent looking local temple. After few minutes, the trail will grow steeper, and as you keep walking, you will see the summit of Chandrashila and the sacred Tungnath Temple. On this trek, you will come across the Hawa Ghar set up for the travelers by the forest department. This spot is perfect for travelers looking for a brief break and some grand sightseeing.
You will further see wondrous rhododendron and maple forest and eventually come across dhaba. Deoriatal is quite close to this dhaba, and it will take a short downhill trek for you to reach your destination. You will also see Chaukhambha massifs in the background of the view.
After the trek for day two is over, you almost get an entire day to yourself which means you have more time to enjoy sights nearby. You can relax at the camp or just go for a brief trek nearby. We recommend you sleep early and wake up first to see the most beautiful sunrise amidst the hills.
Day 3 of Chandrashila Trek:
On day three, your destination is Chopta from Deorital (8,790 ft-7,841 ft), and the trek will take around 7-8 hours to cover 14 km. We recommend that you carry water with you as the water sources might under thick ice during colder seasons.
At the beginning of day three trek, you will see the watchtower, Forest Lodge and a lovely forest trail which you will take. The trek is so majestic as it passes through dense rhododendron and maple trees. You will be able to see Kedar Dome and Chaukhamba peaks through the trees on your left side.
Within 15 minutes walking into the trek, you will see the Chandrashila peak (quite bright and visible) and the Sari village right under you on your right. Soak in the views and continue on your way to Chopta. As you pass the forests, you will see a trail that will take you Madhmaheshwar and Nandikund trek passes.
Another 15 minutes and you will be at Jhandi Dhar (the highest point on the trail). If you take a summer trek (March-April), you will see the trek covered with red and pink Rhododendron flowers. Another 15 minutes and you atop the Jhandi Dhar and here is where you look at the most magnificent views of the entire trek.
Kedarnath Wildlife Sanctuary on Chandrashila trek :
As you walk on the trail, the forests grow denser, but one thing that is worth remarking is the flora which becomes more beautiful with time. You will see numerous small shrines with tied bright yellow flags which are developed by the tourists and locals. Now you will continue on the trail inside Chopta Forest and here is the point where you are in for a grand surprise if you a bird watching enthusiast. You can see the Himalayan woodpecker and Verditer Flycatcher on this trail. Keep walking on the trek, and you will reach Rohini Bugyal and Chopta. Another trek which is recommended for bird watching enthusiast is Goechala Trek.
As you get out of the forest, the Chandrashila peak will be right in front of you. You can also visit the Kedarnath Sanctuary part of the region nearby.
Kala Parvat is another peak adjacent to the Chandrashila peak, and the former has the glacial lake, Bisuri Tal at its foothills. The trail from here grows leisurely, and you will reach the meadow Rohini Bughyal. If you appreciate nature, then enjoy your sunset here. From here, you will climb up and down several forests and meadows and eventually reach the Chopta Campsite. Enjoy the night at the campsite and prepare for the next day's trek which will be fairly more comfortable and shorter compared to this day's trek.
Day 4 :
On day four, you will reach the Chopta Circuit (8,800 ft), and it will only take 2-3 hours for you to get there. Carry sufficient water with you since there is no specific source of water available during the trek. This trek will take you through dense forests, in the beginning, you will cover through the rhododendrons, and then you will see numerous oak trees. The wood on Chandrashila trek is so thick that locals call the place 'Andherdhar' as barely any sunlight reaches the forest. ON this day, you will also see spectacular views of the Chaukhamba and Kedar domes.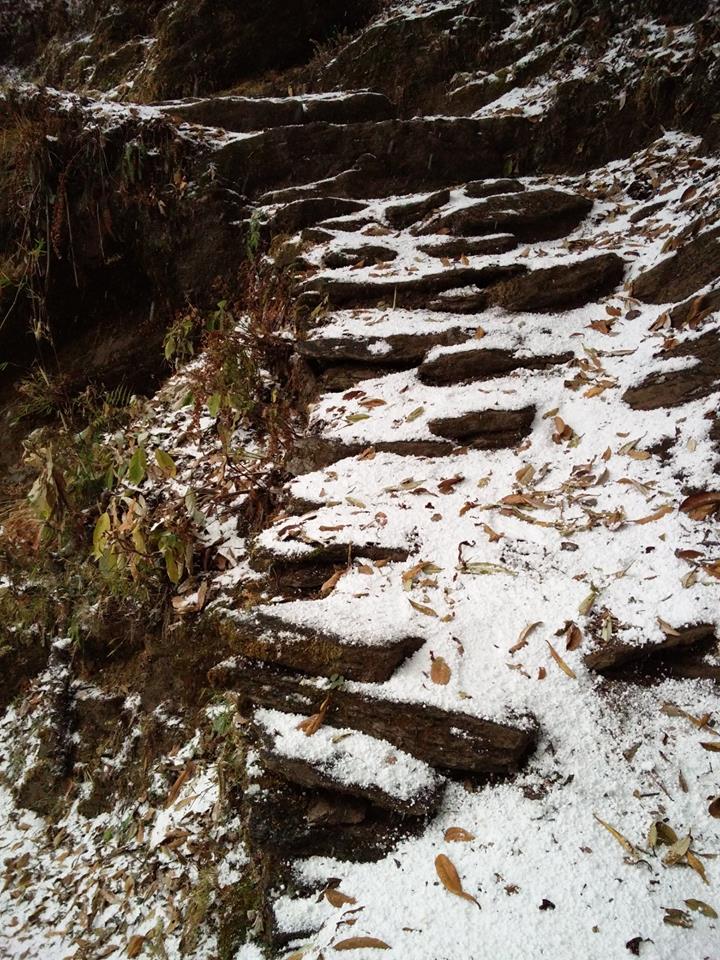 Day 5 on Chandrashila Trek :
On day five, you will go from Chopta to Chandrashila Peak (8,790 ft to 12,083 ft) via Tungnath and come back to Chopta. It will take you 4 hours to cover around 8 km.
Begin the trek early, and it is better if you get on the way before sunrise so you can see the beautiful morning from Tungnath and the Chandrashila peak. There is a cemented pilgrim trail which makes it easy for you to climb the route. But we must remark that this is quite a steep climb. You will trek to the Tungnath temple for around 2 km. As you keep walking on the trail, you will see the Chandrashila peak along with Tungnath temple complex.
There is also Ravanshila lies to your right the Tungnath temple is located only half a kilometer from this point. You will even come across Birch trees (Bhojpatra) from this point. The place is crawling with birds like Monal and Griffin vulture so enjoy some bird watching. If you go through the winter months, you will see snow on the route making the trek even more heavenly.
Once you reach the Chandrashilla Peak, you will see grand views of the Garhwal and Kumaon along with distant mountains of the state Uttarakhand such as Thalaysagar, Dunagiri, Nanda Devi, Trishul, Kamet, Chaukhamba, Nandaghunti Kedar dome, Gangotri ranges, Jahanukut, etc.
Next, you will spend the rest of the day going back to Chopta via the same route.
On day six, the trek is officially over, and you leave for Haridwar by train or road. If you want to stay in Chopta, you can work out the schedule and accommodation with a hotel that fits your budget. Or you can go back to Haridwar and stay there.
Summary of Chopta Trek :
Place | Uttarakhand
Starting point | Sari
Finishing Point | Chandrashila Peak
Height| 12,083 ft
Trek length | Approx 30 km 
Time of trek | 35 – 40 hrs depending upon your stamina.
Mode | foot with wooden stick support.
Essentials | Power bank, poncho, move/voilini, toiletries. 
Terrain | Moderate
To see | Beautiful birds and Lake
Definitely, Do's | Birdwatching, Akash Kamini waterfall photography
Don'ts  |   Swimming in lake
Note | Please don't litter.