It is exciting to know that this trek to Tinjure peak has recently opened up. The trek is very close to Gangtok. You will find only 5-10 visitors doing this trek.
I hope that you have done a few treks in the Northern states of India. You will be wondering why you should do this trek. The trek is A++ on cleanliness as you will not find any garbage anywhere on this trek. The trek is very easy, but you will be having one of the most exciting and heart whelming views of mountains. The peak of Trichuli Tinjurey Trek gives a panoramic view of mountains ranges from all side. You will see yourself surrounded by mountain peaks with a clear sky and fresh air.
Trichuli Tinjure Trek is a beginners trek on the difficulty level. If you try to trek with no noise, you might get lucky and spot Red Panda. Locating fox at night very easy. When we mingled up with locals, we got to know that they spot bear now an then at the trek.
The Trichuli Tinjurey Trek is open round the year, and anyone can do it with ease. It is advised not to take any shortcut while doing the trek. The trek route is steep and you may fall and hurt yourself badly.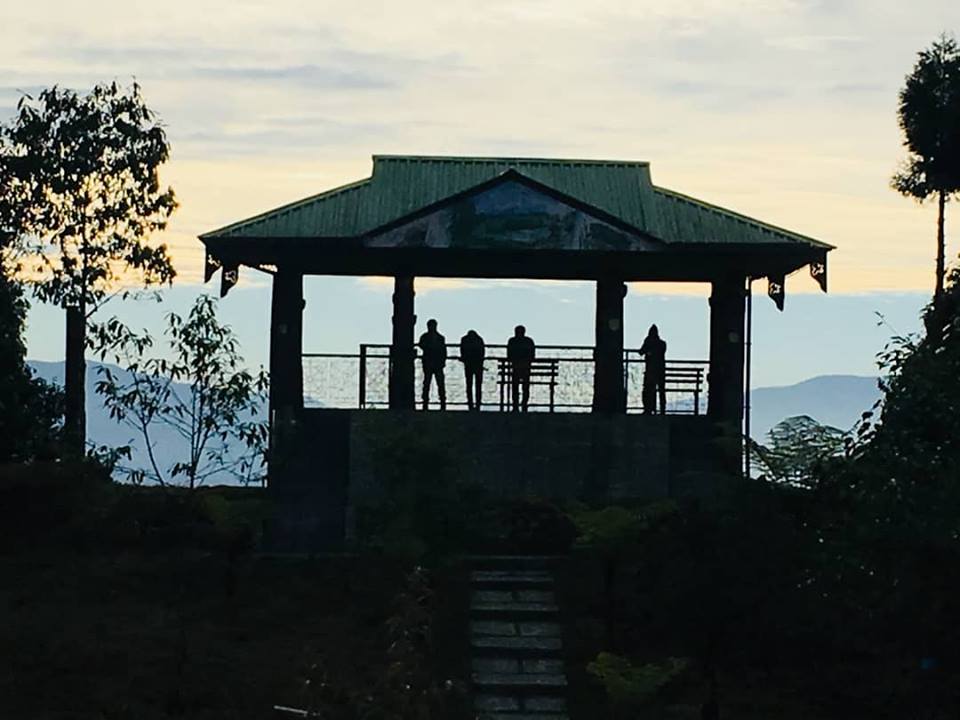 Itinerary for Trichuli Tinjurey Trek:
Day 1 :
You will be arriving at Gangtok and catching some local guide who can provide you with accommodation for the night at Goliyatar. Goliyatar is one and half hour drive from Gangtok. The local guide will try to get you stay at hut which is for army personals only. Alternately you will get a homestay in Goliyatar. Goliyatar is the starting point of the trek.
Spend your night with the sky full of stars and keep a watch as fox walk around the village.Don't miss the Sunset and sunrise from there, if you are ready with the camera a time-lapse video from there is a must. The trek is under Fambong Lho Wildlife Sanctuary. Small water tributaries flow through this sanctuary and merge into Teesta and Dikchuu river.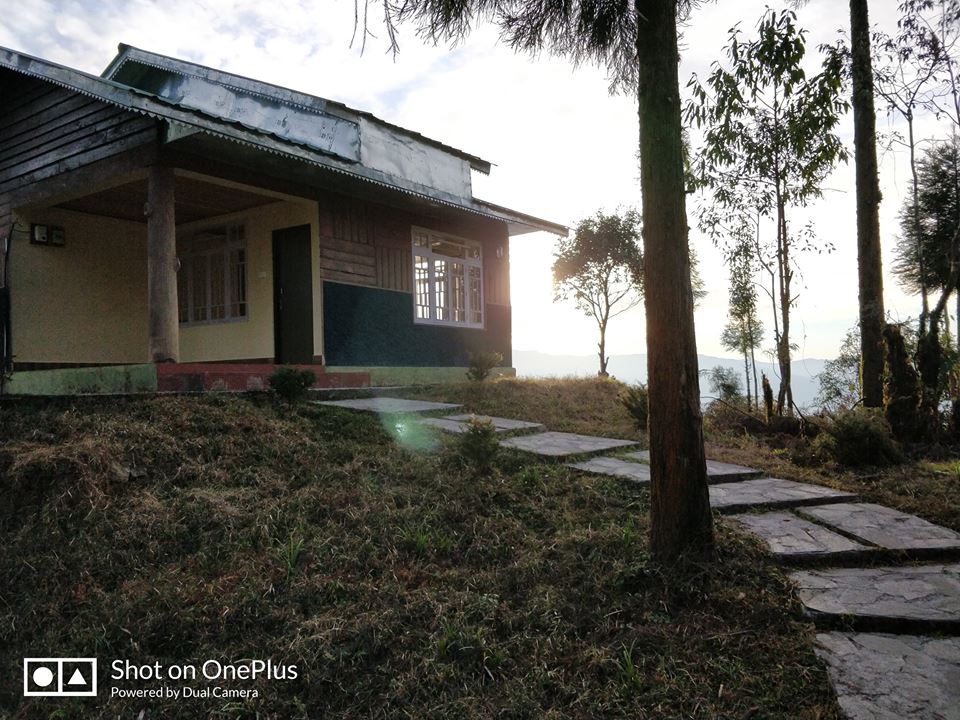 Day 2 of Trichuli Tinjurey Trek:
Try to start your trek after Breakfast and keep snacks in your bag. Leave other luggage at the place you stayed. Keep a hard stick with you as the trek is new and you may encounter some animals who are not friendly with humans. The trek has steps at the start and in no time you are inside the dense forest. The lush green surrounding leaves a pleasing impression. On the trek, you will pass through the root of the tree. The trek is of around 4kms and height of the peak is somewhere around 5000-6000ft. Once you arrived at the final point of the trek, you will see elevated concrete rack for keeping an eye on trespassers. The view will leave you awestruck. Enjoy your snacks at the peak. Please do not litter, take all the polybags back at the homestay with you to dump in the dustbin.
Flora and Fauna on Trichuli Tinjurey Trek :
Birds species at Fambong Lho Wildlife Sanctuary are the hill partridge, satyr tragopan, Rusty-fronted barwing, Bar-throated minla, red-tailed minla, black-eared shrike babbler, Chestnut-crowned warbler, Streak-breasted scimitar babbler, fire-tailed myzornis, Yellow-browed tit, red-headed bullfinch, Crimson-browed finch, scaly laughingthrush etc. According to the locals, endangered rufous-headed hornbill has also been spotted in the sanctuary.
Barking deer, red panda, Himalayan brown bear and yellow-throated marten are few mamals which can easily be spotted in the area. Besides these, at the higher altitude, you can also spot takin, red fox and musk deer.
Weather in Goliyatar and The Trichuli / Tinjure Trek: The trek has a cold temperature around the year, and it is freezing in winter, and you may lose your breath so keep an inhaler with you.
If you are looking for a longer trek, you can reach about Goechla Trek which is a very famous trek in Assam.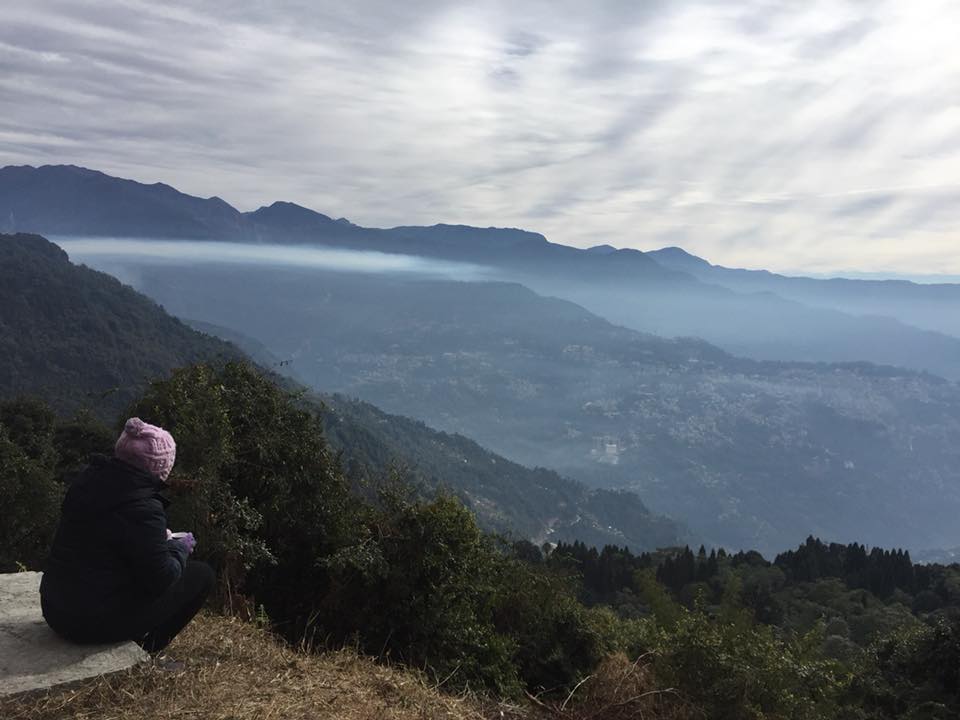 SUMMARY OF Trichuli Tinjurey Trek :
Place | Gangtok
Starting point | Golitar
Finishing Point | Tinjure Peak
Height| 6000ft approx
Trek length | Approx 4-5 km 
Time of trek | 3-4 hrs depending upon stamina. 
Mode | foot with stick support.
Essentials | Power bank, poncho, move/voilini, toiletries. 
Terrain | Easy
To see | Beautiful birds and Redpanda
Definitely, Do's | Birdwatching, different kind of trees
Don'ts  |   Refrain from making noise to spot animals like Red Panda and Fox
Note | Please don't litter.