Different people have different ways of sprucing up their holidays. While some want to light candles, watch movies, and relax in their living rooms, others want to notch up the thrill factor in their vacations. One of the most calming, adventures and of course spiritual trek is the Kedarnath Trek which is also known as Kedarnath Yatra in India. This track mostly attracts people with an age range of 25-50 years and even more sometimes. If you too are interested in lighting up spirituality within yourself and go for a Kedarnath trek, then you should plan for it in advance. Choose Kedarnath trek if you are seeking help then fret not, this article will let you know all that you should read before finalizing your Kedarnath trek.
The difficulty level of Kedarnath Temple trek:
It is one of the riskiest treks in India, and a disaster has happened here back in the year 2013 after which the Govt. has restricted the number of people for this route to 1500 people per day. Some sources say that this year onwards the govt. of India has increased the limits to 5000 people per day. Let us dig into this article to know more about this breathtaking trek.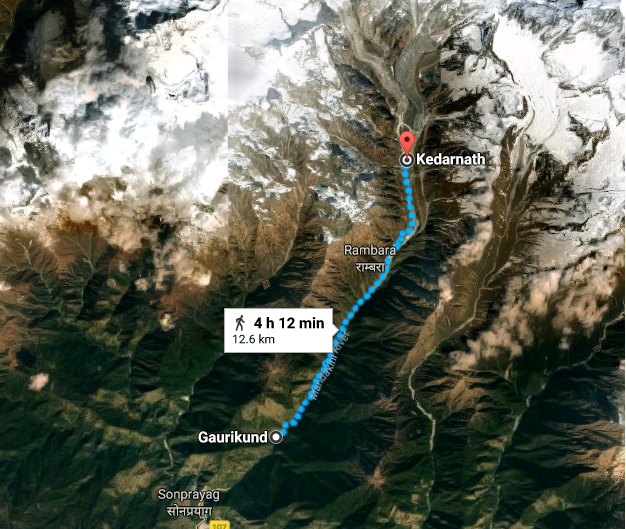 Being one of the "Char Dham," the Kedarnath trek is one of the busiest treks in India. Located amidst of holy mountains of Uttrakhand which is also known as Dev Bhoomi. The town and the routes are open only from May to October. Rest of the year, this place receives an ample amount of snowfall, and the area inaccessible until next summer.
Kedarnath Trek & travel itinerary:
The peak of the Kedarnath trek is at the height of 3400m which is quite high and steep. If you are traveling via busses, then you can board one from the following cities – Haridwar, Dehradun, Rishikesh and some towns of Kumaon and Garhwal. You can trek from Gaurikund on foot which is at the height of approximately 1900m. Another way is taking a bus to Sonprayag which is the last stop after that is not open for vehicles. The further distance of 5 km to Gaurikund can be covered with a jeep if you cannot trek.
The real trek starts after Gauri Kund which is a 16 km long trek. Old and disabled can take private services of helicopter lifting from mini-stations named Guptkashi, Phata, and Sersi. You can also book a bus ticket which will take one full day to reach Sonprayag. You will get to see amazingly beautiful and marvelous mountains from the little window of your bus.
During your journey, if you feel any medical issue (as generally the oxygen level steep down at that altitude) then you can go for Govt medical center available in Sonprayag and get a medical certification to be entirely sure.
There are many beautiful things to do in the route itself which makes the overall experience of the trek quite exciting and appealing. For instance, you can take a dip in the holy water from a hot spring. As the temperature there would be quite low, you will feel amazing taking warm water bath.
After Gaurikund, you can trek or take a mule all the way to Kedarnath. Another convenient setup of doli (hired along with four people who could lift it) is available for the elders, which is quite relaxing and comfortable.
Important Note for Trekking to Kedarnath Temple:
If you are interested in taking a mule from Gaurikund to Kedarnath, then you should go with the ones provided at the office. They are stronger ones who are given a proper diet, unlike the private ones.
Another tip that you can note is that you need not carry a bag full of eatables with you. There are shops after every 200m of trekking. Also, you can always stop midway for a light snack or a refreshing tea.
Rambara is one of the significant stoppages on this route on which a couple of camps are always available by the government. This place had a good number of hotels which were all washed away in the floods of 2013.
Medical Tip:
After Rambara, the thickness of air shreds so you might experience slight discomfort in breathing for which you must have arrangements beforehand.
After walking for a few more kilometers, the most awaited sight will come before your eyes if you are a Hindu worshiper. You may go and pray there and take your mind to a state of peace for some time which will be much needed for your trek down. Some people would also take a dip in the freezing water of Mandakini which isn't necessary for you to do.
Stay and lodging in Kedarnath:
As mentioned, most of the rest stations, hotels and ashrams had been washed away in 2013 flood. The Government has done quite a good job setting up camps to stay for the night. 15-18 hotels are available around the area which might be a little expensive considering the lesser number of facilities there. If you want to explore cheaper options, then you can go for huts near the helipad in Kedarnath. These shelters will cost you near 300 bucks per person without a meal.
You will find many canteens around that will offer food at a decent price (approximately 100rs per plate).
Another thing to note is that the doors of the temple remain closed between 3 to 5 PM.
Summary of Kedarnath Trek :
Place | Rudraprayag
Starting point | Gaurikund
Trek length | Approx 16 kilometers 
Time of trek | 1 days.
Difficulty level | Easy in the first half and gets difficult as you approach the destination
Mode | foot with wooden stick support or you can take a direct helicopter to Kedarnath
Essentials | Power bank, poncho, move/voilini, toiletries.  
Terrain | trekking through rock surface, crossing river streams, snow trek in winter
To see | Water cascades, clouds, clear blue skies and breathtaking forest in sunlight, flowers in summer.
Definitely, Do's | Night star gazing, Local tales
Don'ts  | Rush to cover the distance. avoid trekking at night.
Note | Please don't litter
Other recommended Spiritual Trek: Kinner Kailash Trek