Rupin Pass Trek – Rupin Water Fall
Starting from Dhaula, which is a 10-hour drive from the city Dehradun in Uttrakhand, the Rupin Pass Trek is one of the highest treks to explore in India. Many adventure enthusiasts, climbers, and trekkers in India. The trek ends at Sangla which is in Himachal Pradesh. As far as the level of difficulty is concerned, this trek has many hurdles and an uninhabited area along its way and so it would be an adamant one for the beginners. The path is located at an altitude or at an elevation of 15,250 ft (4,650M) above sea level which is quite steep in itself. During the way of the trek, you will find many glaciers, rocky areas, and green meadows as well.
For those who are looking for an entirely out of the league and adventurous trek this time must explore the lesser known but highly adventures "Rupin Pass Trek." If you are thinking about the trails for this experience, then there are many, and one of them starts from a place known as Gosangu. Fun fact is, this site is the last road head of Himachal Pradesh. If you want to explore more about The Rupin Trek, then come along and read more of this article.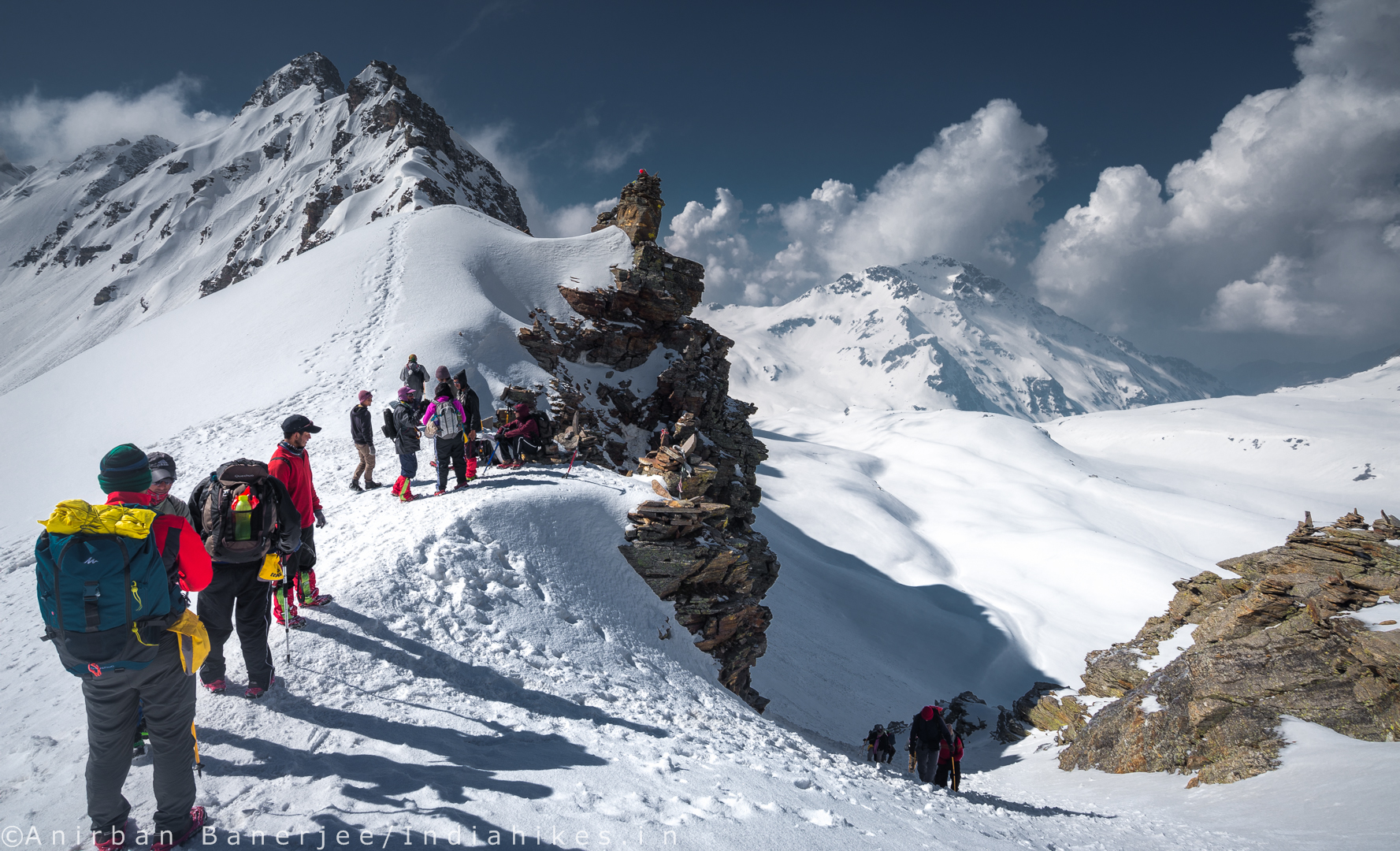 Pic Credit: Google CCNow, there are two possible routes from which you can go to the same destination, the first camp of your trek which is Jhaka. The first course allows you to travel by road until the point Gosangu. The way you can take to reach this point is from Shimla via Rohru. Alternatively, you can begin with this trek by starting from Naitwar. To arrive this place, Naitwar, you can take a ferry ride from Dehradun via Dhaula which will set the fire ablaze within you while showing you the essence of nature, all day long.
The first point, as mentioned, will be a camp at Jhaka, you can reach via any of the locations you may choose as the starting one. The village of Jhaka has quite an inhabitancy which will be quite uncommon for you while your trek up. The trail from there will take you to the Rupin River, or waterfall which will soothe your journey for a while.
If you are interested in the distances or "altitude" of each significant point in the trek then here is a list. The final destination or the Rupin Pass is at an altitude of 15250 ft above MSL. Whereas, Dhaula, the first point of the alternative route is at 5100ft. Gosangu, the hanging village will be at the height of 6300 ft. Moreover, Jhaka at 8700 ft. Also, the endpoints, Rupin waterfall at 13,120 ft – thatch at 11,680 ft to Rupin pass at 15,250 ft respectively.
If you are wondering, it will take around eight days to complete Rupin Pass Trek. Seeing the number of days, you may want to backpack accordingly to avoid any necessity. Pack your bag as the whole trail is very lunatic and you will not find any shop to buy anything. The points and camps of this trek will mostly cover the mesmerizing mountains of Uttrakhand and Himachal Pradesh.
If you are a scenic enthusiast or want to explore the widely unpopular treks of India, then Rupin Pass Trek is quite apt. For you as because of the unpopularity and missing livelihood around this area. You will cover many points which have never been before explored. You will be mostly covering the eternally beautiful mountains of Himachal Pradesh around 80%, to be precise.
Regarding variation, Rupin Pass trek is an adventure in itself as there are no fixed points apart from the camps set up and trail. At every significant mile or two, you will get to notice a considerable variation in the trek. It will be a complete win-win situation for you if you are a nature lover, but at the same time, it is advisable for you to not carry heavy equipment for photography as your phone, if the battery lasts, will do just fine. The trail up is quite steep so you might face a moderate difficulty while climbing up.
During your adventurous trek up, you will see many waterfalls with a fantastic view and of course the cleanest water. You can refill your bottles here as the water pool is immaculate in the waterfalls around this place. If you are looking for a count, then you may find hundreds to thousands of waterfall during this trek. The starting camp of this trek which is known as Jhaka will offer you a breathtaking view. This location is also known as the hanging village which is because it appears at the edge of a mountain. From a distance, it seems to be hanging.
If you are a mountain person, you are going to love the trek. Rupin pass trek will let you find many exciting and lesser explored snow mountains and snow bridges. Play in the clean snow and rest there for a shorter while to enjoy the heavenly view. People who have completed this trek describe their "walk on the snow bridges" as the USP of this trek.
Forests – while on this trek, you will get to see diversified views and scenic beauty as you move further. The trek runs through the woods of fir, Rhododendron & Oak that looks quite mesmerizing and new and you will almost have the feeling of being on a movie set as you will get to see those beautiful, thin, and tall trees located in proximity to each other.
Finally, you can bow your head down at the famous Kinnaur Temple while on the trek and can mentally click the fantastic images of inner Kailash.
Rupin Pass Trek Itinerary :
Day 1: Reach Daula from Dehradun (11-12 hrs drive). Prepare your backpack accordingly for eight days.
Day 2: Dahula to Sewa, an easy 11km trek along Rupin river. Keep refilling your water bottle and hydrate as much as you can.
Day 3: Sewa to Jiskun, 8 km trek full of scenic beauty and snow-capped mountains.
Day 4: Jiskun to Udaknal, it is also an 8 km trek, where you will find rocky climbs. I hope you do not forget to keep your power bank with you. Irresistible scenic beauty will keep you busy with photography
Day 5: Udaknal to Upper Waterfall camp, a 11km trek. It is an adventure trek from lower waterfall camp to upper waterfall camp. Also, you will love walking over snow bridge in this part of the trek.
Day 6: Upper Waterfall to Rupin Pass. Full of steep climbs it will take around 12 hrs of trekking till you reach the campsite. Enjoy your night, and here you will feel the ultimate satisfaction of covering one of the problematic treks in the Himalayas.
Day 7: Rupin Pass to Ronti Gad is a comfortable 2-3 hrs trek depending upon your stamina.
Day 8: Ronti Gad to Sangla is last part of the 6-7hrs trek. At Sangla, your trek ends where you can enjoy local foods and rest in local houses. Enjoy night gazing before returning to your daily busy life.